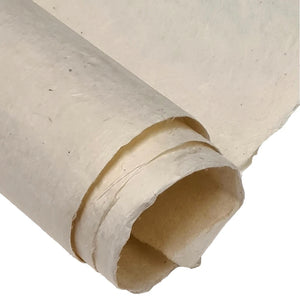 Prakrtika is an artist grade paper especally useful for printmaking and drawing. Gesso can be applied to the surface to make it paint ready too.  
It's made using methods which have hardly changed for thousands of years using two local fibres called Sethbarau (Nepali Kozo) and Argeli (Mitsumata) which grow in the wild and is harvested in the foothills and highest altitudes of the Himalayas. 
Sethbarau or Nepali Kozo is an exceptionally strong fibre, Mitsumata is wonderfully soft and absorbant. When combined in the 50/50 mix it creates something quite special. 
Unlike lower quality papers from Nepal these contain no fillers such as grasses and wood pulps.
The beauty with this paper is its absorbancy when used with western inks leaving a wonderful matt print, similar to Japanese style finishes found in printed and stenciled works. 
Because of the various processes involved this paper can only be made during a small window of time meaning that production and availability is very limited. 
All Hatakami is handmade and so there is no grain direction. It is also acid-free. It can be used with western inks and bookbinding glues. We find using a roller when gluing to give the best results. 
The individual sheets are shipped rolled.
50% Nepali Kozo (Mulberry)

50% Mitsumata

handmade

deckle edges

60 g/m2

Available Sizes:
28 x 36 cm (14" x 11") - standard shipping rates*

36 x 56 cm (11" x 28") - standard shipping rates*

56 x 72 cm (28" x 22") - standard shipping rates*

Sizes may vary: sheets are often handmade in different papermills and we cut them by hand