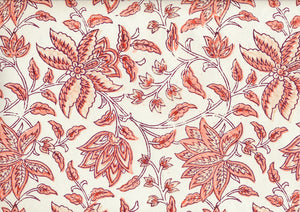 Cotton paper is made in India since centuries. Today it is usually made from recycled cotton and blockprinted by hand

This paper is very structured and compared to our other papers it is very thick. It feels like a tapestry. Size, color and weight may vary.
This paper can  be used in bookbinding, scrapbooking and many other diy projects.
Hand carved wooden blocks are used to manually stamp beautiful designs on to this handmade cotton paper. 
This ancient textile printing technique is labour intensive but the results are truly amazing.