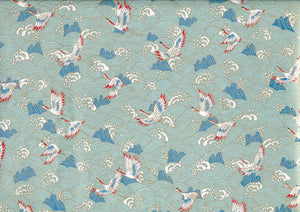 This paper, with its unique colors, is used for centuries and the designs still relate to traditional kimonofabric. The white Kozupapers are screenprinted by hand in Japan.
The papers have a very special structure that you can not compare with normal paper.
The paper is great for bookbinding, card design and many other purposes.
The colors are bright and hardly fade, even when the paper is exposed to the sun.
The individual sheets are shipped rolled.
JPP no. 414c 414